Google Business Page For Realtors [Beginner Guide]
Google has completely transformed the way property buyers find real estate agents.
Nowadays, buyers look for agents using Google Search and Google Maps, and only agents that have optimized their online presence for local SEO will appear in Google Search and Google Maps results.
When buyers look for your real estate business on Google, they will see a Google My Business (GMB) profile like the one in the image below.
However, this business profile may not show up if you haven't claimed your Google My Business account. Even if the profile shows up, the information may not be accurate because Google relied on sources beyond your control to populate your profile with information.
The fact that 69% of home buyers start their research on Google before visiting the website of any real estate business, means you can't afford to neglect the importance of a Google My Business profile.
A fully optimized GMB profile is an essential part of any effective real estate marketing strategy and that's why we wrote this article about creating a Google Business page for realtors.
What Is Google My Business (GMB)?
We have emphasized the importance of a Google My Business profile, but what exactly is Google My Business?
It is a free Google tool that lets you provide information about your business to Google and manage the online presence of your brand across Google Search and Google Maps.
The information you provide to Google through your Google My Business account will be used to create your profile on Google Search and to provide information about your business in Google Maps results.
If your profile is properly optimized and you combine that with an effective local SEO strategy, your business will become more visible in online search and you can get on the 3-pack box.
Google created Google My Business because it understands that when customers look online for real estate agents and other local businesses, they will need the right business information as quickly as possible.
Think of your GMB account as your agent profile on Google's business directory. Anytime a property buyer searches for local agents in the area, the most relevant real estate companies and agents will show up in search results.
So how does Google decide the agents and real estate companies that will show up in search results? It ranks businesses based on 3 factors:
Relevance: this is the compatibility of the products and services provided by local businesses to the search query of the user. For example, local real estate businesses and agents will be relevant to someone that is looking for "real estate agents near me".
Distance: this is the proximity of local businesses to the location of the searcher. If you are an agent in Raleigh NC, Google will deem you as a local business in close proximity to searchers that are looking for local properties.
Prominence: this gauges the popularity and credibility of your real estate brand online. The more positive online mentions you get across multiple online platforms, the higher your prominence.
What Is Local SEO & Why It Helps Real Estate Agents?
We mentioned how combining an effective local SEO strategy with a properly created profile is the right way to go. So, what is local SEO?
If you have already invested in search engine optimization campaigns, then you already know what SEO entails. It is the collection of steps and techniques that you use to improve the visibility of your brand on Google and other search engines.
These techniques focus on helping you rank high for relevant keywords in national or global search results.
Local SEO is similar, except that it focuses on making you more visible to searchers in your immediate geographical area.
Since 72% of buyers used local keywords like "near me" and "in city/town" in their search queries, local SEO optimizes your online presence to ensure you will show up in search results when people use local keywords to look for real estate companies and agents.
For example, let's say a potential property owner based in Charlotte NC is looking to sell a house and types "real estate agents in Charlotte NC" into Google. If your online presence has been optimized for local search, you will appear at the very top of search results like in the image below.
A key factor that is central to local SEO is your GMB profile. Many of your competitors are investing in SEO and your GMB profile will help distinguish you from other agents.
So, what are the benefits that real estate companies and agents will get from investing in local SEO and an optimized GMB profile:
You Will Show Up On The 3-Pack In Search Results
Investing in local SEO and adding relevant information about your business to your GMB profile will ensure your brand stands out in local search results.
The holy grail of local search is the 3-pack. It is the box containing a map and three listed businesses that appears at the top of search results for local queries. A good example is what you see in the image below:
Getting on the 3-pack will make it easier for you to get discovered by clients and you will also generate more leads. Research shows that local companies that get listed on the 3-pack gain an astonishing 700% increase in traffic to their website.
You Will Rank Higher In Search Results
They often say the second page of Google is where web pages go to die. Research shows that 64% of searchers only check out the top-three ranked web pages and only 10% of searchers will check out the second page.
Investing in local SEO techniques and optimizing your website for relevant local real-estate keywords will help you rank higher. Failure to do so will relegate you to the other Google pages that are rarely visited by searchers.
The Reviews Will Help You Stand Out
93% of searchers including property buyers will read reviews before they make the decision to work with a real estate agent. The more 5-star reviews you get, the more you will stand out from your competitors.
A major local SEO technique is helping agents source positive reviews from loyal clients and encouraging those clients to post their reviews on the GMB profile of the agent.
Local SEO Will Help You Get Clients That Need Your Services Immediately
It takes time to create awareness about your brand and nurture leads into paying clients. With local SEO you can easily get your website to the top of search results and customers will easily discover your brand.
The good thing about these local searchers is that they are ready to pay for your services immediately. Research shows that 64% of local searchers will reach out to you as soon as they discover you on Google search or within the hour.
This means people who want to sell or buy property will reach out immediately to the agents they find on Google with a proper GMB profile.
You Will Establish Your Knowledge and Authority In The Real Estate Niche
Successful agents like Melanie Piche (the Brelteam) and real estate companies like Coldwell Bankers have successfully harnessed blogging as a key part of their SEO strategy.
Most searchers see the authors of content that provide them with valuable information as subject matter experts. This means real estate companies and agents that consistently create content will be seen by buyers as leaders in the local real estate market.
Coldwell Banker has successfully utilized this content creation strategy to help it rank high in local search results for several cities and towns in the country.
It's Free Advertising
Investing in Google ads can help you show up in local search results, but you can also get your profile to the front page of search results by creating a GMB profile for free.
This makes your GMB profile a form of free advertising. Google will display your legal business name, business description, contacts, and other relevant information in search results without you spending a penny.
You Will Gain Valuable Insights From GMB Analytics
From your GMB dashboard, you can access the "insights" section. This section contains valuable analytics about how well your brand is performing in search results.
You will discover how many searchers have interacted with your profile, how many people visited your website by clicking the link on your profile, and the search queries they used to discover your business on Google.
Google My Business Setup Steps
Below is a list of steps to help you set up your Google Business page:
Step 1: Search For Your Business Profile
It is possible that Google has already created a profile on your behalf even though you don't have a GMB account. Google will create this profile with the available information about your brand online, but since you don't have any control over that information – it may be inaccurate or inconsistent with what you have elsewhere.
To check if you already have a profile, search for your name or your real estate company name on Google and if your profile exists, it will show up in search results.
On your profile, go to the "own this business" link and click on it. It will lead you to a page where you can follow the prompts to claim your profile.
Step 2: Go To The GMB Page and Create A New Profile
If you don't have an existing business profile, then you need to create a new one. Go to the GMB page and click "manage now". Clicking on that button will lead you to the page where you can provide information about your business.
You should also be aware that you will need a Google account to create your GMB profile. You can use your personal account or you can create a separate business account.
Step 3: Follow The Prompts To Set Up Your Profile
After you click "manage now" – Google will ask you to complete the following steps:
Add your legal business name
Select your business address
Confirm if you provide services for businesses outside your chosen location
Add the local areas [towns/cities] you serve
Select your business category
Add your contact details
And, finally, click finish and verify your business
Step 4: Add Visuals And A Business Description To Your Profile
To complete your profile, go to "photos" from your GMB dashboard and add your logo, cover image, images, and videos if you have any.
The visuals you add will show up in your profile in search results and without them, your profile will look unprofessional and incomplete.
Google will also let you add a business description with a limit of 750characters. This isn't much and you should limit your description to a brief pitch that effectively describes why customers should work with your real estate company.
How To Optimize Your Google My Business Profile
After following the steps outlined above to create your GMB profile, the next thing to do is to optimize it. Below are a few tips to help you get started:
Provide All The Information Required
Fill in all the information required to complete your profile. Provide up to date information about your services, website URL, business hours, and contact information. If you have offices in multiple cities or towns, create different 'location groups' for each area where you have an office.
If you don't provide comprehensive information about your business on your profile, other people may do it for you. Google provides the "Suggest an edit" option on every business profile and any user can edit your page.
Since you don't have any control over the additions made by others, the changes made by other users to your profile may be inaccurate and harmful to your brand.
Add Photos And Videos
We touched on this earlier and you can add images of you and your staff or images of you and your clients with sale/sold signs.
Adding quality visuals to your profiles will drive more traffic to your site. Research shows that profiles with images get 35% more clicks than businesses that have no photos in their profiles.
You can also add videos to your profile. Get a professional to help you create short 360-view virtual tour videos of the best properties in your portfolio and upload them to your profile.
Publish Google Posts
You can create short posts and upload them to your profile. These posts can be between 100 to 300words and they will be displayed prominently on your profile.
You can create posts about open house events, price reductions, happy hours, home buyer seminars, and any post update that can grab the attention of searchers.
You should also know that your posts will only remain live for seven days after which Google will take them down.
Get Reviews
We have already established that reviews will help you stand out in search results and you should actively reach out to clients to ask them to post 5-star reviews on your profile.
Research by Inman shows that real estate companies and agents with 10 or more reviews on their profiles will get 3.5 times more interaction from searchers than agents with fewer reviews.
You should also respond to reviews posted by your clients. When you respond to reviews, it shows potential clients that you care about the opinions of your customers.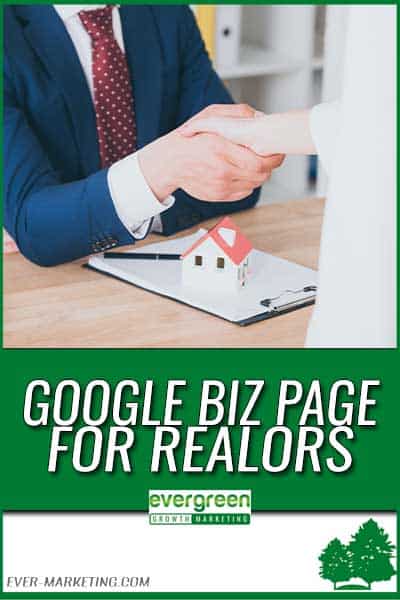 Final Thoughts
Setting up your Google My Business profile and using the tips outlined above to optimize your profile will contribute immensely to your local SEO efforts.
If you need help setting up your GMB profile, Evergreen Growth Marketing is a Raleigh NC SEO and digital marketing company that can help you out while you focus on your business.