Search Engine Optimization (SEO) is the key to driving TRAFFIC to your site. Our sites include clean code, proper schema markup, and meta data based on your keywords.

We curate the strategy to drive more business to you. Getting the right keywords is the vital piece to put together the SEO puzzle. Our SEO methodology ensures that your rank high for the terms your customers are searching for.
Designing and building WordPress websites that will help bring you customers, that are mobile friendly & look great and CONVERT your visitors into leads.

Don't fall for cheap and free website templates. Your website is an asset and an extension of your business and brand you built. Enable this asset to convert web traffic into leads.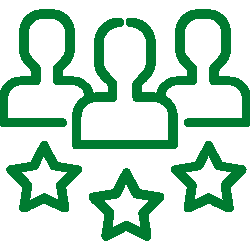 We help you using the right tools to get 5 star reviews from your customers. We help you SHOWCASE these reviews to your new prospective customers.

Google, Yelp, and Facebook are just some of the places where you can build trust for your potential customers. We will help automate this process and develop customized marketing communications to help showcase your business's integrity.
We offer maintenance plans to help PROTECT your website asset with regular updates and backups.

By selecting a maintenance plan, you can feel secure that your website will be secure and up to date with all the latest security fixes from wordpress and other plugins.

Part of the local SEO strategy is to make sure your business gets DISCOVERED on the search engines. We discover necessary ways to improve your listing quality and boost your search rankings. We also scour and fix other directory and citation listings across the major search directories and
Click below to schedule a free 1 on 1 assessment call for your business. We will help you discover where you are wasting money on marketing and help to develop a strategy.
Whether it is a blueprint for SEO or a custom sales converting website, you can expect us to deliver.