What Is Link Building For Local SEO [ Beginner Guide]
Links have always been a key ranking factor in traditional search since Google's Pigeon update and they are just as important in local search.
Research by Moz shows that inbound links and on-page signals are the two most important ranking signals in local search.
Google and other search engines consider the quality of inbound links together with other ranking factors to rank local businesses in local search results.
If you want your business to rank high, you can't avoid having an effective link building strategy.
That is why we wrote this article to explain what is link building for local SEO and show you the best link building strategies for local SEO.
What Are Links For Local SEO?
Links for local SEO is the process of getting other websites in your set local geographical area to link back to your business website. This link building process serves as a vote of confidence accumulation system.
Building a comprehensive link profile for your website is similar to building the online reputation of your business. When buyers look for your business online and they discover lots of 5-star reviews on your online profiles, they will deduce that you have an excellent business reputation and will want to buy your products and services.
The same applies to local SEO. When Google bots search for your website and discover that several authority sites in your niche are linking back to you, Google will deduce based on your inbound link profile that your website is credible.
The alternative scenario also applies. If buyers look for local businesses online and discover that your profile has many 1-star reviews, they will deduce that your business has a negative reputation and will be wary of buying your products and services.
Also, if search bots look for sites online and discover that there are few websites linking back to you, or that your inbound links are spammy or low-quality sites, search engines will deduce that your site is not credible and that your content is low-quality.
Google places great importance on the credibility and trustworthiness of the links that local sites are attracting. Sites that attract links from popular and important local websites will be seen as high-quality, and sites that attract links from unreliable sources will be seen as low-quality.
Link building for local SEO focuses on getting local links that will be seen by Google as credible and trustworthy. This typically involves targeting high authority sites in your location, and while this is a good idea for traditional SEO, it is not always practical when optimizing for local SEO.
Many of the local websites that are popular in your location may not command a high Domain Authority (DA), but they have a huge influence on the local target audience.
Since getting links for local SEO is all about targeting any website with significant local relevance, low-authority local websites may just be your secret weapon for ranking high in local search.
Dofollow Links and Nofollow links
Links leading to your website can be Dofollow or Nofollow, and we will explain the meaning of each below.
A dofollow link is any link from another website to your site that does not carry the Nofollow attribute. An active backlink by default is a dofollow link unless the nofollow attribute is included. Here is what it looks like:
Dofollow Links
These types of links are what Google wants to see on local websites. These backlinks are more effective when they contain the location and relevant keywords of your business. Also, the higher the authority of the source of the dofollow link, the higher the value of the link to your local SEO efforts.
Nofollow links
These are inbound links to your site that carry the nofollow attribute. This attribute informs Google that the source website is not giving a vote of confidence to your site. The image below shows what a nofollow link looks like:
Websites use nofollow links for many reasons. They can use it to link to another site while signaling to Google, that they don't trust the content on that website. They can also use it to avoid giving Google the impression that they are selling links or involved in reciprocal linking.
However, the generally adopted use of nofollow links is to prevent comment spammers from getting backlinks in the comment section of a popular website.
Which is the best link building type?
The best type is the dofollow link. It acts as a vote of confidence by the host website and passes SEO value to your business website. For your link building campaign to be successful, you will need lots of dofollow links.
What Are The Attributes Of A High-Quality Link?
To show you want a high-quality link looks like, we will examine what Google uses to rate the quality of inbound links:
Relevance: the webpage that is the source of the link must share topical similarity with your website. If you are a real estate agent, then a backlink from housingwire.com will be a link from a site that shares topical similarity with your website.
Location: the links should be from websites that are focused on the same local target audience.
Anchor text: the hyperlink should be descriptive and should preferably include your location, and keywords that are relevant to your brand.
Page Rank: Google will look at the DA and local popularity of the referring webpage.
Variety of domains in your link profile: Google sees it as a red signal if all your inbound links are coming from one source. Links from different local websites are more valuable than multiple links from a top-ranking site in your industry.
How To Get Links For Local SEO
Below is a step-by-step process that will show you how to build links for local SEO.
Step 1: Identify link building opportunities
Your link building strategy must outline how you plan to generate opportunities that will get backlinks to your site.
The first step is to use Google to source for opportunities by using the custom search queries – [location + keyword] and [industryname + keyword]. For example, you can type the query "Raleigh NC + real estate blogs" into Google.
This will return a list of local real estate blogs in Raleigh as shown in the image above. Any real estate business owner in the city can use that list to find local blogs that may be willing to provide dofollow links.
When searching on Google, look for the following:
Local bloggers in your industry that have a significant following that is primarily made up of people in your local area
Local media outlets that are willing to feature small business owners
Other local businesses with blogs in your niche
Local event pages
Local charities that will feature you on their site when you sponsor them
Another way to find opportunities for building links is to use the Link Prospector Tool. With the tool, you can easily find websites and bloggers that will be willing to show off your content to their audience. Just type in the relevant keywords and it will generate a list of outreach opportunities in your location.
Step 2: Leverage the hard work of your competitors
An easy way to identify more backlink opportunities is to check out the backlink profile of competitors that rank higher than you.
You can use a number of tools for this including Ahrefs, Moz, and others, but we will use Ubersuggest as our tool of choice.
Just input the URL of the website that you are reaching and Ubersuggest will display the important SEO information about the site including monthly traffic, DA, the number of backlinks, and more – just like in the image above.
To identify the websites that are linking to that competitor site, click the "backlinks" tab at the top of the page and it will lead you to a page that shows a list of the web pages linking back to the site and the DA of each page.
Focus on the local websites on the list that have above-average domain authority and check out their content to see if they will be a perfect fit for your link building goals.
Step 3: Reach out
Now, that you have identified opportunities – it's time to get in touch with the administrators of the websites and editors of the media outlets on your list. To do so:
Pitch an interview or guest post to local blog owners
Get in touch with editors of local media outlets and pitch feature stories and interviews
Ask local review sites to take a look at your business and review your products and services
Step 4: Track your progress
As you put in the effort to get inbound links for your business website, you should also measure the progress of your efforts.
The best way to do this is to track the changes in the total number of backlinks to your site. You can do this with the Moz Link Explorer or with Ubersuggest as we explained earlier.
To encourage the bloggers, local businesses, and media houses that have linked to your content, you can send emails to each of them to show your gratitude and to encourage them to include links to your site again in the future.
The Good, The Bad, And The Ugly Of Local SEO Link Building
Link building is essential if your local SEO efforts will be successful and there are two approaches to link building:
White-hat link building tactics
Black-hat link building tactics
White hat strategies will be the good side of link building, while black-hat strategies are the bad & ugly side of link building.
White-hat Link Building
These are techniques for building links that are in compliance with Google's webmaster guidelines and are highly unlikely to attract any penalty from Google.
Local businesses that adopt white-hat strategies will build an engaged community of loyal customers and create content that provides real value to readers. This is a sustainable strategy with benefits that the business will continue to enjoy for years to come.
Black-hat Link Building
This is the use of techniques that seek to manipulate the tendencies of search bots and are in violation of Google's guidelines. These techniques may work in the short-term, but over time, Google will catch on to the ruse and the website will be penalized.
A good example is when Google penalized JC Penney for its black-hat link building scheme. The company was buying links from thousands of websites that did not share any topical relevance to the company's industry to boost its rankings.
After a New York Times article exposed the scheme, the company's website was demoted in rankings and it took the company months before it started to recover.
The best approach is to use a long-term strategy that uses techniques that won't draw the wrath of Google and ensures that the hard work you put in to get your business to the first page of search results will not evaporate overnight.
Our approach to link building has always been with white hat methods that have zero to low risk on any type of penalization.
Advantages Of Local SEO Link Building
Below are some of the advantages that local businesses will get when they invest in the right techniques to get backlinks for their websites:
1. Boost in Rankings
We already highlighted the importance of inbound links as one of the major ranking factors used by Google. They are so important that your website won't get near the front page of local search results if there are no backlinks on the site.
The more backlinks you get from reputable local websites, the higher your ranking. By reputable websites, we mean popular local directories, blogs, and media outlets.
2. Referral Traffic
If there are many local sites directing their readers to your website, the traffic to your site will increase concurrently. Getting high-quality backlinks is a much cheaper way to attract customer traffic than paying for digital ads.
3. More Sales
More traffic means more people will discover your products and services. This will lead to more sales and your company will grow.
Disadvantages Of Local SEO Link Building
The impact of getting more inbound links is overwhelmingly positive, but there are also some drawbacks.
1. It Takes time
The reason why many people use black-hat techniques is that they can get results much quicker, even though with foresight they should know that the impact will be temporary. A local small business owner has to juggle many duties and can only allot a limited amount of time to create content and build links.
2. Low-Ranked Site Links Will Have A Negative Impact
Page authority is one of the most important factors that Google uses to gauge the credibility of a backlink. If the bulk of inbound links to your site are from websites with below-average domain authority, Google will give you a lower rank.
3. Some Techniques Attract Severe Punishment
Techniques like link buying, cloaking, doorway pages, hidden content, and others will not be tolerated by Google and will attract a demotion.
It is important to get this right, so consulting an expert in this area is a good idea to save your business from making avoidable mistakes.

Here at Evergreen Growth Marketing our techniques are always using white hat methods.
Is Link Building Still Relevant For SEO?
Yes, it is as relevant as ever. A diversified link profile of quality backlinks is still one of the most important ranking factors and that's not changing anytime soon. There are pros and cons to getting links, but the advantages are immense, and the disadvantages are negligible.
Citations Are A Good Place To Start
One of the most effective strategies that can be adopted by businesses is to get local citations.
This is any online mention of your brand name on websites, blogs, directories, social media platforms, and anywhere else online.
When these citations are on online directories they tend to include crucial information about your business like your brand name, address, and phone number – NAP. An example is the Yelp profile for a Raleigh, NC real estate agent in the image below.
These citations are very important because they help Google compare and verify the authenticity of your NAP information. If your information is consistent across all local directories, your social media profiles, your website, and other publications – Google's confidence in your brand will increase immensely.
These citations also appear often in search results. For example, try searching for "real estate companies in Raleigh NC" – and the bulk of the results you will get are online directories.
To start getting citations, you should claim your profile on major listing sites and business directories. You must also claim your Google My Business profile and fill in all the required information.
The major listing sites are:
Yelp
Google My Business
Yellow Pages
Facebook
Apple Maps
Foursquare
Trip Advisor
Zillow
To identify local directories, look for them on Google using the following queries:
[location + business listings]
[location + industry + association]
[city + industry + council]
These will help you discover high authority local directories and local industry associations in your location. Citations and backlinks from these directories will have a positive impact on your local SEO efforts.
Optimizing Your Citations
You can optimize your citations in the following ways:
Use consistent information
Add detailed descriptions to your profiles
Select a category that adequately describes your business
Link to your website from each directory page
Use photos, and accumulate 5-star reviews
10 Local SEO Link Building Tips For Success
Below are 12 strategies that local businesses can use to get more backlinks for their websites:
1. Blogging
This is one of the most effective ways to earn backlinks from local blogs and other websites. If you consistently publish blog posts that are useful to your local audience, other bloggers will see the value and direct their readers to your website.
Here are a few blog post ideas that will help you attract the attention of bloggers and earn you backlinks:
Interesting stories about your business
Case studies on local products and services in your niche
Answers to local FAQs
Tourist information
Local event lists
2. Create Online Resources
You can create a resource page on your website that provides solutions to location-specific problems. If the content on this page is high-quality, readers will share them on their sites and bloggers will link to them.
A good example is a resource page that contains several how-to articles showing local customers how to solve common problems that lead customers to buy the products and services you offer.
3. Guest Posting
Guesting posting on local authority websites and earning backlinks in return is one of the most effective ways to get links. Local businesses can partner with local influencers that have a decent following and offer to promote your products through their platforms in exchange for a commission from each sale.
You will get exposure for your brand and valuable backlinks.
4. Get Featured In Your Local Newspaper
You can get the attention of local news outlets by organizing events that they can't ignore like product giveaways, sponsorships, or launching new products. You can also reach out to them and offer to write articles in their newspaper about local events in your industry.
5. Create Social Media Profiles
Creating profiles on social media platforms gives you the opportunity to add the URL of your website to each profile. You must also be active, and consistently post content and visuals that will keep your followers engaged.
6. Leverage Your Business Relationships
Get in touch with your business partners and turn your established relationships into backlinks. You can do this by writing testimonials about their products and services on their websites and getting a backlink to your site in exchange.
7. Give Discounts To Local Groups
Most communities have an online guide that helps people discover businesses that offer discounts in the local area.
If you offer discounts to groups like veterans, senior citizens, and any other local club of your choosing, it will attract attention to your brand and you will get backlinks from online discount listings.
8. Sponsor Local Causes
If you become the official sponsor of local events, charities, sports organizations, and others – these local organizations will be happy to help promote your business and get you backlinks.
9. Recruit On Local Job Boards
Companies are always recruiting new employees and you can use that opportunity to get backlinks to your sites. You can get backlinks from something as simple as posting a job ad on Indeed.com to recruit a writer for your blog.
10. Find Broken Links
This involves identifying local web pages that no longer exist and finding links to them. When you find those links, you will reach out to the host website and suggest that they use a backlink to your site instead.
You can find broken links with a tool like Site Explorer which will provide you with a list of broken links in each website you review with the tool. Check the website of your competitors with the tool to identify broken links that you can exploit.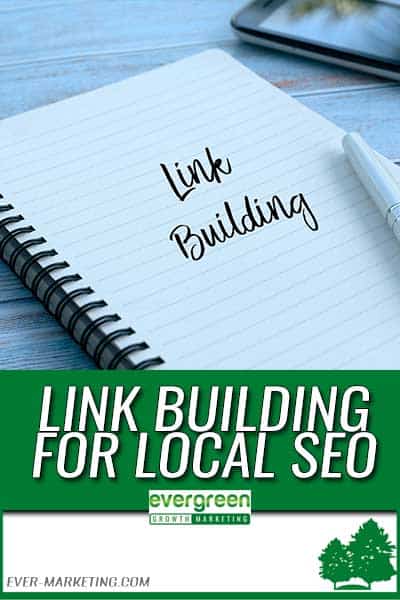 Final Thoughts
Effective link building strategies can make a big difference in helping you rank high in local search. Use the step-by-step guide and strategies outlined in this article to get started.
If you need help with your link building efforts, Evergreen Growth Marketing can help. We are a Raleigh, NC SEO and growth marketing company that can help you develop the right strategy to take your business to the top of local search rankings.