Best Local Directories For SEO
Many customers rely on online business listings to find local businesses. When customers search on Google for the products and services you provide, they can either find you through your website and other online platforms or through the relevant local business directory.
This means business owners that set up profiles on relevant local directories and invest in local SEO will have created multiple channels for customers to discover their brand. Also, businesses that are unable to rank high in local searches will still be discovered by buyers on local directory sites.
Local directories not only create another avenue for people to discover your brand, they also contribute to your domain authority and help your site rank higher in local search results.
This is why we wrote this article on the best local directories for SEO and also outlined the numerous local SEO directory benefits for local businesses.
Why Use Local Directories For Your Business?
In the past, buyers used to rely on telephone books to find the contact details of local businesses. These books were bulky and unwieldy, and any business that couldn't make the directory was out of luck.
Today, customers can easily find local brands online largely due to the existence of several online business directories for each industry.
So what are online directories?
An online directory is any website that displays the business information of local brands and provides visitors to the website with the tools to find the right business for their needs.
Many local business owners fail to recognize the value of online directories and research shows that only 44% of local brands have a Google My Business listing, and just 33% have a Yelp listing.
This is an onerous oversight given how important these listings can be to the credibility of local brands, and to their domain authority in local search rankings.
The more you claim profiles for your business on local directories, the more search engines will be aware of the online presence of your brand. Google also crawls your information on each platform to get a consistent and accurate picture of your business information.
What's more, your profile on each of these directories will also help you with link building since you will include a link to your site on each platform.
What Are The Major Components Of Business Profiles On Local Directories:
Local directories will typically include the following information on your profile:
Business name: each directory will display your legal business name and your logo to help buyers identify your business. If you are in a multi-practitioner industry like real estate, each agent can use his/her name as the business title.
Tagline: some listings will let you add a slogan/tagline just below your business name. If you don't have any for your business, there is no need to include it.
Business description: this is one of the most important parts of your profile, and most directories will let you pitch your business to buyers in a few words that will be displayed on your page.
Images: the guidelines for each platform will differ regarding the number and dimensions of images you can add to your profile. If you are an individual practitioner, upload a professional personal photograph, and if you own a local business with employees, upload photos of your business.
Contact information: every directory will let you display your contact information including your business address, primary & alternate phone numbers, fax number, and others.
Customer reviews: most directories let customers leave reviews on the profiles of listed businesses on their platforms. These reviews play a major role in how searchers view the credibility of your business when your brand shows up in relevant searches.
Website URL: most platforms will let you include a link to your website. If your business has multiple locations with different landing pages on your website, make sure your link directs visitors to your primary homepage.
Local SEO Directories Benefits
Below are some of the many advantages of claiming your profile on local listings:
Improved Online Visibility
Getting your business listed greatly improves the chances that your business will get discovered by new customers. Directories are optimized to help searchers discover relevant businesses through keywords.
If you selected the right category and attributes for your business when creating your profile, your brand will show up in local searches for your type of business. This means potential customers that aren't familiar with your brand can easily discover you.
Accurate And Consistent Business Information
Like we highlighted earlier, Google looks for consistency in your online information. If your information across these directories is consistent and accurate, your brand will show up on major platforms like Apple Maps, Google Search, Google Maps, and others.
Keeping your business information up to date on each of your profiles also makes it easier for customers to discover your brand in local searches.
Most searchers don't go online to look for a specific local brand, they search for the products and services they need, and local directories and Google will display a list of the relevant businesses that provide those products.
More Business Through Referrals
When your loyal customers refer your brand to other buyers, these buyers will often search for your business online to see what you have to offer and to get your contact information.
If you have a well-written profile with accurate information and many positive reviews, these referred customers will get a good impression of your business.
However, if these referred buyers can't find your business online because your domain authority is too low, or because you failed to list your business on local directories, they will leave you and move on to your competitors.
More Customer Reviews
The fact that many listing sites let customers leave reviews on your profile gives you an opportunity to boost the online reputation of your business.
Since 93% of the buyers that are interested in your products and services will read your reviews before choosing your brand, directories provide you with the opportunity to get several positive reviews across multiple platforms.
Boost Search Visibility And Site Traffic
Optimizing your online presence for local SEO and improving your domain authority is not the only way to get your brand to the top of search results.
Many local directories rank high for relevant industry keywords and if you have already claimed your profile on local listings, customers will find you when these directories show up on the first page of relevant searches.
Since these directories help get your brand in front of as many buyers as possible, the traffic to your site will also increase.
Top 15 List Of Local SEO Directories
In this list, we have focused on the directory sites that not only help display information about your brand to customers but also have high domain authority which ensures they rank high in local searches and increases the value of the links that lead back to your site.
1. Facebook
Facebook is the world's largest social media platform, and more than 1.6billion people use the social website on a daily basis. Facebook lets businesses create Facebook company profiles that allow you to get in front of this massive audience.
2. DexKnows
This is one of the most popular local business directories and it attracts more than 200,000 visitors every month.
3. Yellow Pages
Yellow pages has gone online and it allows businesses across a wide variety of industries to claim profiles for their brands. The platform attracts more than 60 million searchers every month, and it has one of the highest conversion rates of all the online directories.
Given the high domain authority of the platform, getting your business listed here will boost your chances of appearing in local searches.
4. Yelp
After Google My Business (GMB), this is possibly the second most popular online directory among customers.
Not only do over 178 million buyers search for companies on the platform every month, 97% of these customers buy from the local company they discovered on the platform within a week.
The platform not only has a high domain authority, it also has a high rate of conversion. Customer reviews on Yelp can also aid your Google rankings.
5. Local.com
More than 100,000 local companies are on this platform and it gets millions of visitors every month. It is optimized for local brands and fine-tuned to provide visitors with relevant information about local companies.
6. SuperPages
It's another major online directory that lets brands claim profiles and display detailed information about their company to searchers. The platform gets over 1million visitors every month.
7. MerchantCircle
This is another high-domain authority online directory with tens of millions of monthly visitors that you cannot afford to ignore.
The platform lets all kinds of merchants and contractors create profiles on the directory and over 2 million companies are already listed on the site.
8. Bing Places For Business
Bing is not a popular search engine like Google Search but it is still important. Bing Places for Business lets you claim your listing and ensure your local company will appear in local search results on Bing.
9. Zillow
Zillow is the most important online directory for real estate companies and agents. It not only hosts real estate agent profiles, it also allows home buyers to link with agents and buy property.
The platform has a US Alexa ranking of 41 and a high domain authority. If you own a real estate business, you must create a profile on this platform. If you already have one, make sure the information on your profile is up to date.
10. Realtor.com
This is another niche-focused listing site for real estate agents. The National Association of Realtors owns it, and it curates information from the professional profile of agents and other websites to be displayed in property listings on the site.
As an agent, you can power up your profile on the platform to distinguish your brand from other agents and increase your chances of winning more customers.
11. Trulia
It is also an online directory of real estate agents, and you can create your profile for free and submit your property listings. Agents can also chat directly with home buyers on the platform.
12. TripAdvisor
It is an international travel website that helps tourists and other travelers find local hotels, restaurants, and attractions. As an owner of a local vacation rental, hotel, restaurant, or entertainment business, listing your company on TripAdvisor is a must.
The site has a high domain authority, it is known to travelers all over the world, and most visitors to the site trust the information on the platform. Also, links you get from this site will contribute positively to your link building efforts.
13. DoorDash
This is another high domain authority, niche-focused website. DoorDash lets users order food for home delivery from local restaurants and the food will be delivered by the company.
Since the company doesn't own its own restaurants, it relies on local restaurants listed on its database. If you own a restaurant business, this is the perfect online directory for you.
14. MapQuest
This is one of the oldest online mapping services that once dominated the American mapping market until the likes of Apple Maps and Google Maps came along.
The site helps users find directions to search for local gas stations, hotels, restaurants, grocers, and more. It is still very important given its high Domain Authority and all it takes to list your business is to fill the Mapquest form.
15. Manta
It is an online business directory that focuses exclusively on small businesses and it is often one of the highest-ranking directory sites in local search results.
Its high domain authority and extensive features that help local companies connect with buyers mean you should endeavor to claim a profile on the platform.
Optimizing Your Online Directory Profile
Simply claiming your profile on the directories listed above is not enough, you need to optimize your profile to distinguish your brand from that of your competitors and attract more customers.
Below are some steps you can take to enhance your online listings:
Focus on Relevant High-Domain Authority Listings
We touched on this earlier and this point is to emphasize its importance. The higher a directory site ranks, the higher the chances that it will appear at the top of search results on Google for relevant keywords.
Listing on high-authority sites like Yelp, Manta, Facebook, Apple Maps, and other directory sites that are focused on your specific industry will increase your chances of getting discovered by customers.
Create Optimal Business Descriptions
Your business description is where you will sell your brand and distinguish your company from your local competitors. You should also include relevant local keywords to ensure you will appear in search results for relevant queries.
Add Visuals to Your Profiles
Use media-rich content to catch the attention of searchers when they are scrolling down the page of search results on directory sites. Use photos of your business and the products you offer. You can also add videos to further capture the interest of the potential buyer.
Keep Your Information Up To Date
Consistent information across all your online profiles ensures you don't confuse potential buyers and also boosts your credibility in the eyes of Google Search bots.
Source For Customer Reviews
Customer reviews serve as social proof that everything written in your business description and elsewhere on your profile is true.
The more positive reviews you get, the easier it will be for you to garner trust and credibility for your brand.
Don't Forget About Google My Business
All of the local listings we have mentioned above are very important, but none of them are as important as your Google My Business profile.
Google rules online search and dominates the online mapping service market. Google relies on the information you provided in your Google My Business profile to populate your online profile in search results.
If you don't have a GMB profile, it will be hard for you to be listed on Google Maps or appear among the top-ranked local businesses in search results.
Creating your GMB profile is easy and you can follow the steps listed below:
Sign in to your GMB account or create a new one
Input your legal business name
Add your business address or if you lack a physical location, add your service area
Add your contact information
Complete all the steps, and click "Finish"
Verify your GMB account
Optimize your GMB profile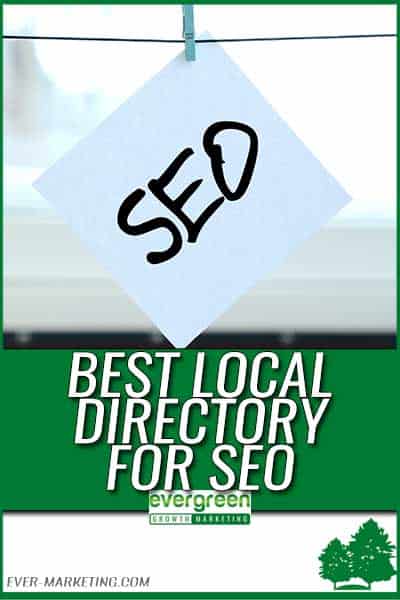 Final Thoughts
Now you are fully aware of the numerous benefits of local SEO directories and you know the top local directories. It won't cost you a penny to sign up to any of the directories listed above and to start maximizing the online visibility of your brand.
It's up to you to claim & optimize your profiles on the high-authority directory sites and other niche-focused listing sites that are relevant to your industry.
If you need help to create and manage your different profiles on multiple online directories, we can help. Here at Evergreen Growth Marketing, we are a Raleigh NC SEO and digital marketing company that can help you find the right listings and manage your profiles on an ongoing basis.